Rebuild the Boardwalk Fundraiser!
Please donate to help the City replace its historic boardwalk!
Thermometer last updated 4/21/2023
UPDATE: We have met the Ayshire Foundation Match of $100K! Thank you to all that have donated to this wonderful project! We are continuing fundraising efforts as construction on the boardwalk progresses.
UPDATE: We are excited to announce the "Purchase a Step" program where all donations $1,000 and more will be recognized on the boardwalk. The recognitions will not be on individual steps, but a plaque along the observation deck or stair landings.
UPDATE: We are excited to announce we have been generously gifted a $100K donation through the Offield Family Foundation and a $100K matching grant from the Ayrshire Foundation for our beloved boardwalk! For every dollar donated after 10/28/2022 the Ayrshire Foundation will match it. This is an important project to our community, and we thank everyone who has donated! Please help spread the word so we can continue to make progress.
The City is now fundraising for the reconstruction of the boardwalk. Our goal for the western section (see images below) is $600,000. Any funds exceeding that goal will go towards design and construction of eastern section.
Ways to Give: Cash or Check to the City of Harbor Springs | PO Box 678 | Harbor Springs, MI 49740
The boardwalk is an iconic walkway that leads people from the top of the bluff to downtown Harbor Springs. Visitors cherish soaking in the sights of downtown Harbor Springs and Little Traverse Bay from the viewing platform, and students and residents use the boardwalk daily as the shortest route from uptown to downtown. Recently, the City closed the boardwalk due to safety concerns with its structure and foundations. Pedestrians must now take a significantly longer route along the bluff in order to reach downtown, and many residents are worried about children having to cross heavily trafficked streets. Thus, the City and community believe it is imperative that we replace the boardwalk as soon as possible.
We aim to first replace the viewing platform and western section of the boardwalk and then eventually the eastern section. We estimate that the cost to replace the western section will be about $600,000 and hope to raise that amount by the end of this summer. The Harbor Springs community is dedicated to keeping Harbor Springs a wonderful place to live and a premier destination for visitors, and we are confident that the community's generosity will enable this project to happen in 2023.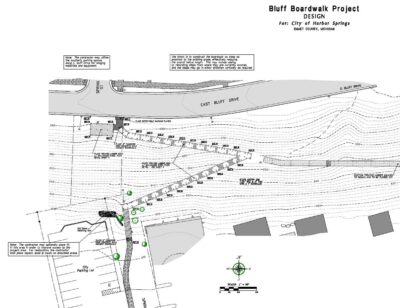 If anyone is interested in learning more about the boardwalk and our plans to replace it, they can call City Hall at (231) 526-2104. We are now accepting donations via cash or check, and checks can be made out to the City of Harbor Springs, PO Box 678, 160 Zoll Street, Harbor Springs, MI, 49740.
More Information and Details: